First, my apologies, an onslaught of spammers forced me to go crazy, reporting & blocking spammers. By accident, some of my favorite bloggers were caught in the cross hairs while doing this via my cell phone. As a result, I inadvertently reported a few of you as spammers to yahoo. I'm currently trying to correct that! In the meantime, I'm sorry if you haven't received any emails from me or anyone you know. I'm really sorry about that!
As we begin Day 6 of this Blackout I submit for your amusement, a few cute pictures of how Queens residents have coped with the heat and lack of electricity.
This horse was so hot in the 100+ weather on Wednesday it led its rider, a sergeant in the NYPD, to a drink. It was so hot Wednesday (105F) I did consider throwing myself into the fountain, clothes and all, after the horse finished drinking and walked away.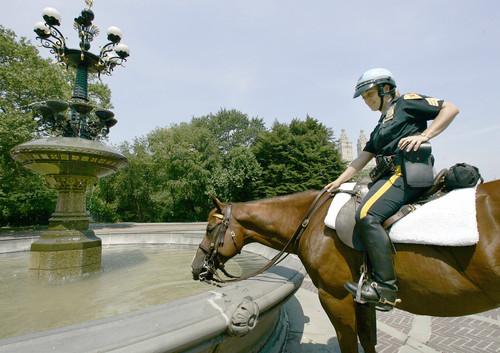 "NO, I still can't hear you!!!!" That's what I thought as I saw this Verizon employee taking a break. He had been inside a sweltering man hole for hours Thursday morning repairing telephone cables which were burned by underground electrical fires. "Can I interest you in a wet t-shirt contest?"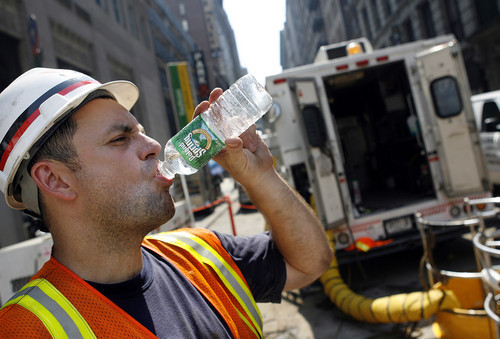 Sprinklers, fountains, parks and rivers are my favorite places for cooling off. I think this kid would agree. Except, that since the water pipes are buried deep beneath the ground, the water is cold as heck! So after I cool off, there's no going back in for me!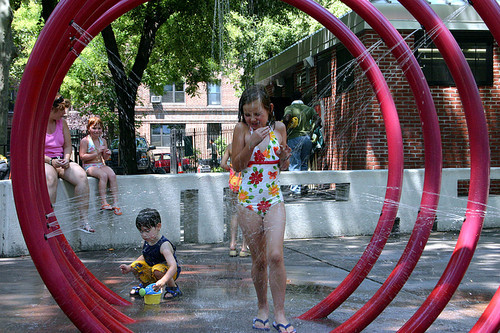 Never a dull moment in NYC, especially when there's a blackout. On Thursday, it was still too hot to go directly home after work, so I took my son to a park not far from us. While my son & I were relaxing, dipping our feet in the fountain, this gentleman gave me a show, that made me quite...uh... nervous. Luckily he stopped stripping at his BVD's before getting into the fountain.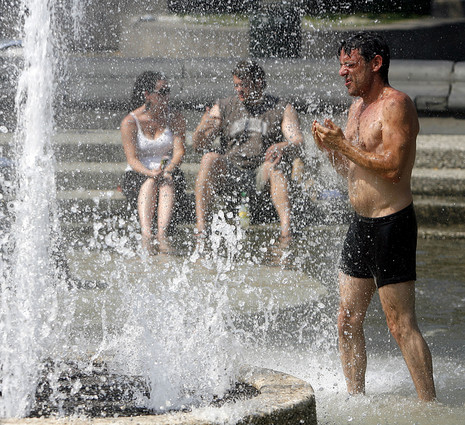 I guess after seeing the above you could say that New York was going to the dogs. Well, the picture below proves it! The dogs were so fed up with being hot they took matters into their own hands. It was a good thing there were no Con Edison men around, I dare say these dogs would have bit them in the ass if there were. See,
my blog sis isn't the only one that can do cute doggy blogging
!
Well, that's it for me. I'm leaving work soon, where I've been hanging out and cooling off with my son, making sure his asthma doesn't kick up. Were headed out in a little while to go to the movies and dinner afterwards. No going home until this humidity eases up a bit or we're both dead dog tired
; )